MÜHLE Rasurkultur
Traditional and innovative craftsmanship
Taking your time, enjoying the peace and quiet for a moment and leaving the hectic pace of the new day outside the bathroom door. That's shaving culture, as we call it in the Ore Mountains, where the MÜHLE manufactory has been based for the past 75 years. Today, the family business in its third generation stands for sustainable products that are created by hand with genuine dedication. With contemporary and timeless design, avant-garde shapes and classics of wet shaving, tradition is just as important to us at MÜHLE as constantly looking to the future. Whether shaving brushes, razors, safety razors, bowls or the right care product, the best materials combined with consistently sustainable business practices, that's what MÜHLE is all about.
Products for cosmopolitan people. Made in Stützengrün.
23. March 2023
Dispose of razor blades properly
With a MÜHLE safety razor, you are doing a lot in terms of sustainability and zero waste. The classic razor blades used in the plane are not only inexpensive, they can also be easily recycled. For safe recycling, we recommend a few things to keep in mind.
continue reading
---
28. February 2023
MÜHLE and MEISSEN
Bringing craftsmanship, high-tech and highly exclusive materials to the table, the EDITION MEISSEN series combines all skills and expertise of the Saxon brands MÜHLE and MEISSEN. Each and every handle and brush is a work of art of the highest value.
continue reading
---
14. February 2023
Sustainably shaved from head to toe
Wet shaving with a safety razor like the COMPANION is not only more sustainable, but also gentle on the skin. In this article you will learn how to avoid skin irritations and what you should pay attention to during shaving.
continue reading
---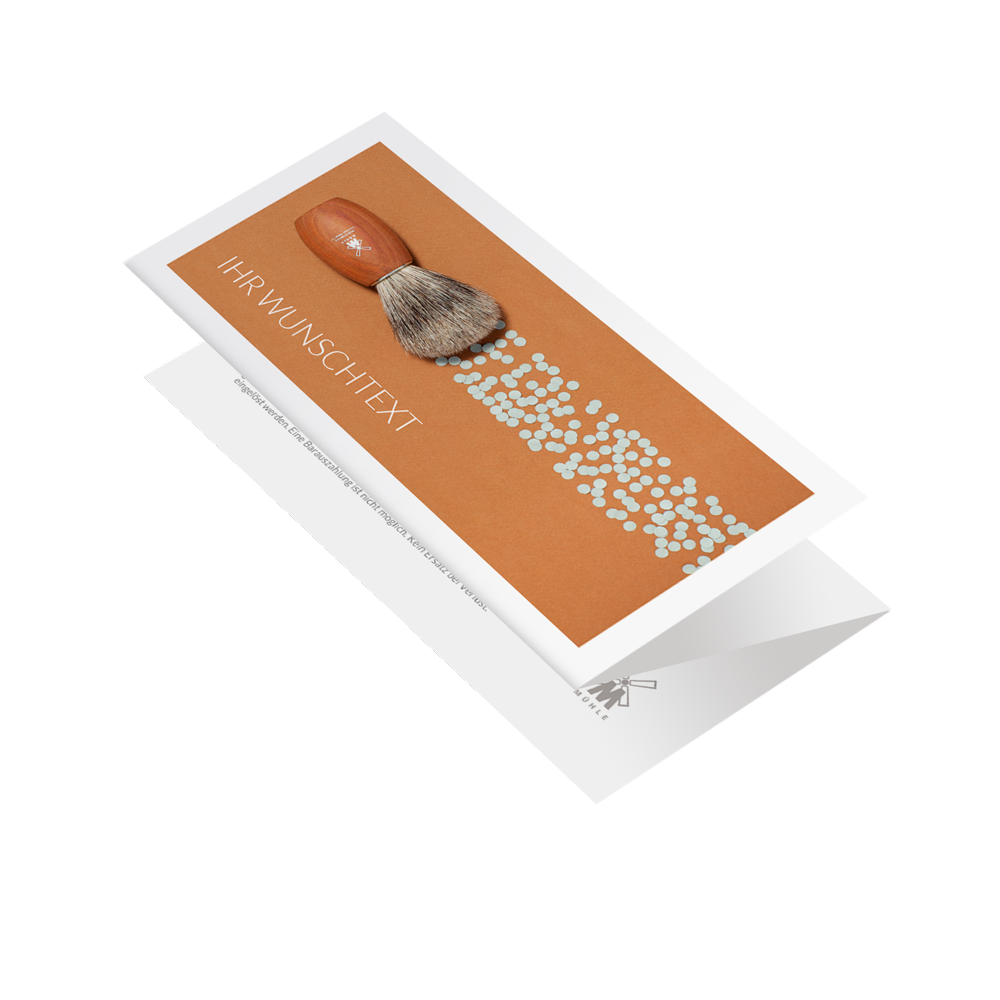 Gift voucher to print out
Whether it's a birthday, Easter, Christmas or anniversary: at MÜHLE you will find a unique selection of high-quality shaving products and gift sets. If the choice is too difficult, a MÜHLE voucher is always the right choice. This is now available in two versions: As a gift card and as a PDF voucher to print by yourself.

Especially when time is short, the digital voucher is a great solution. Simply select the motif and voucher value, enter the greeting text and proceed to the checkout. Directly after payment, the voucher will be sent to you as a PDF by e-mail.
COMPANION meets art
To celebrate the launch of the new COMPANION razor, we collaborated with renowned artists Oskar Rink and Robert Seidel, as well as filmmakers Ertzui. The result is colourful, inimitable, entertaining and intuitive - much like the ritual of shaving itself.
Would you like to get exclusive insights into the MÜHLE cosmos and current developments?
The MÜHLE newsletter is published quarterly and informs you about new products, tips for wet shaving and promotions for the MÜHLE shop.
Successfully registered for 30 Grad Magazine
Something went wrong with the registration, please check if all fields are filled out