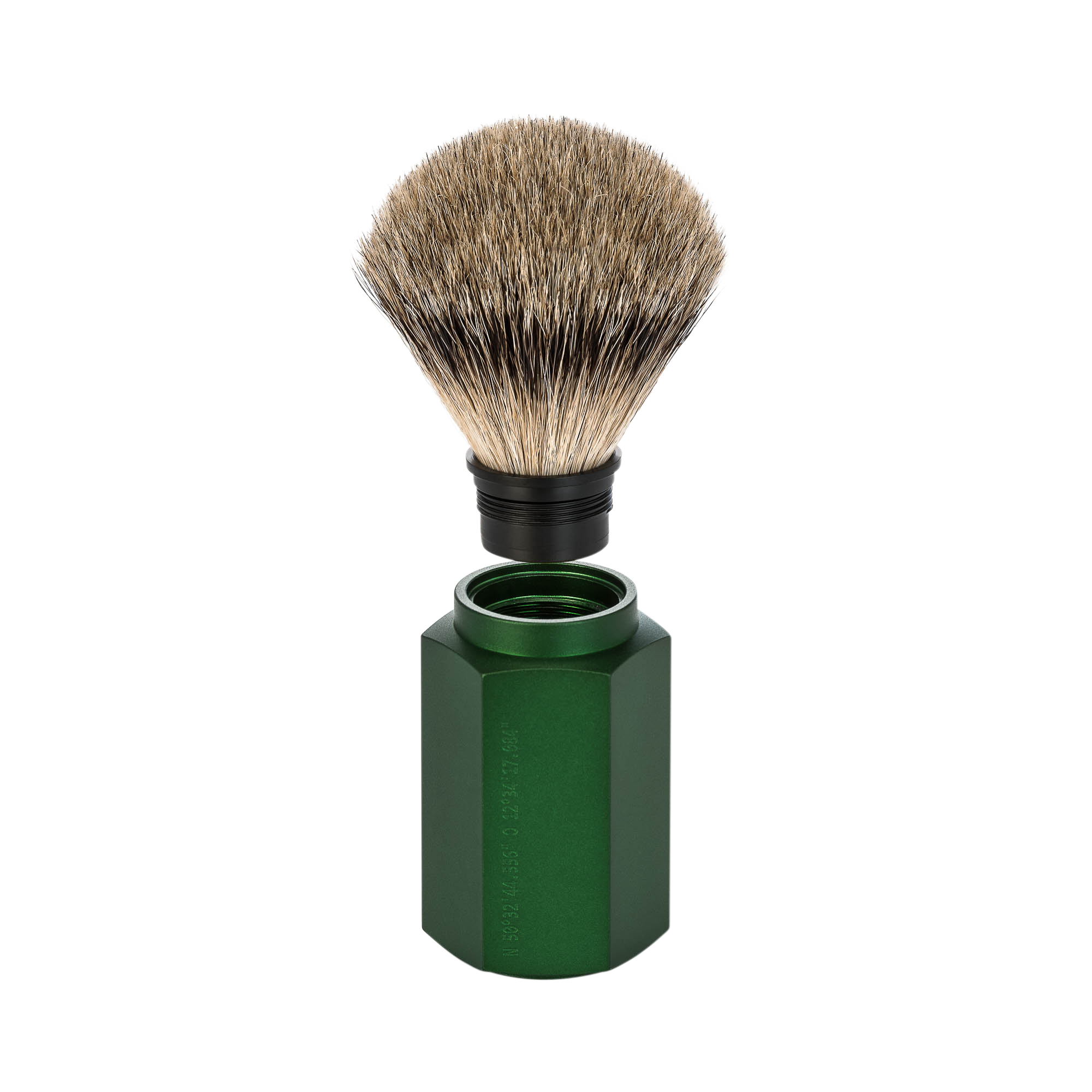 HEXAGON
Shaving set
Product number:
S 091 M HXG FOREST
---
This item is currently out of stock. We can inform you by email as soon as the article is available again.
The HEXAGON series, which was created in cooperation with the Berlin designer Mark Braun, is a nifty way to shave. The hexagonal design pays tribute to the archetypal shape of tools or writing instruments. It promises ergonomics, grip and functionality. Its sleek finish in graphite and forest is complemented by a puristic silver colour. The perfect contrast is ensured by the high-gloss, chrome-plated surfaces of the safety razor and holder. HEXAGON: cosmopolitan design. Made in Stützengrün.
The handle made of anodised aluminium is wonderfully light, but feels good in the hand. The perfect contrast is ensured by the high-gloss, chrome-plated surfaces of the product.

A noble design and mechanical precision. The MÜHLE safety razor with closed comb promises a thorough yet gentle shave. Unlike the safety razor with an open comb, the foam edge has no teeth. In combination with a slightly steeper blade angle, this safety razor promises a particularly gentle shaving technique, which is also suitable for beginners with a little practice. The finest contours and clear lines at the base of the beard are just the icing on the cake.
A tried and trusted classic and the undisputed leader of the natural hair range: silvertip badger is particularly soft and flexible and is exclusively handmade at MÜHLE. Its silver sheen and a black band around each individual hair, which connoisseurs call a mirror, are noble distinguishing features. Its fine, conically shaped hair absorbs a lot of water and guarantees a dense, creamy lather.
| | |
| --- | --- |
| weight: | 410 g |
| width: | 89 mm |
| height: | 130 mm |
| Ring size: | M - 21 mm |
| Vegan: | Not vegan |
| Material: | Anodised Aluminium |
| Bowl included: | No |
| Shaving system: | Safety Razor, closed comb |
| Design Series: | HEXAGON |
| Category: | Shaving Set |
| Colour: | |
| Brushhead: | Silvertip badger |
| Chrome: | Yes |
| Replaceable brush head: | Yes |