includes:
MÜHLE shaving cream Aloe Vera 75 ml
MÜHLE RYTMO Black Fibre shaving brush black 21 M 226

The wet shaving starter set includes a RYTMO shaving brush with Black Fibre and a tube aloe vera shaving cream. Moisten the shaving zone – the face and neck – with warm water. Create a lather from the shaving cream by using a brush and apply in gentle strokes, then allow to take effect for one or two minutes. Without applying too much pressure, shave off the beard using a sharp blade. Then rinse the skin with fresh water.

Starting the day with a refreshing experience for the senses – now who wouldn't want that? With the SHAVECARE series featuring four fragrances, your morning ritual will be a natural pleasure. Shaving soaps and shaving creams optimally prepare your skin and hair for a wet shave. This solid soap dispenses a fine-pored, dense shaving lather when using the brush. This tried and trusted classic is now also available as a practical shaving soap stick for when you're out and about. MÜHLE shaving cream is just as practical, but lighter in texture. After shaving, shaving balm and shaving lotion soothe and nurture the skin. SHAVECARE consists primarily of vegetable ingredients: aloe vera moisturises, sea buckthorn regenerates, sandalwood revitalises, grapefruit & mint refreshes the skin. Four recipes, one result: healthy skin and extra soothing treat.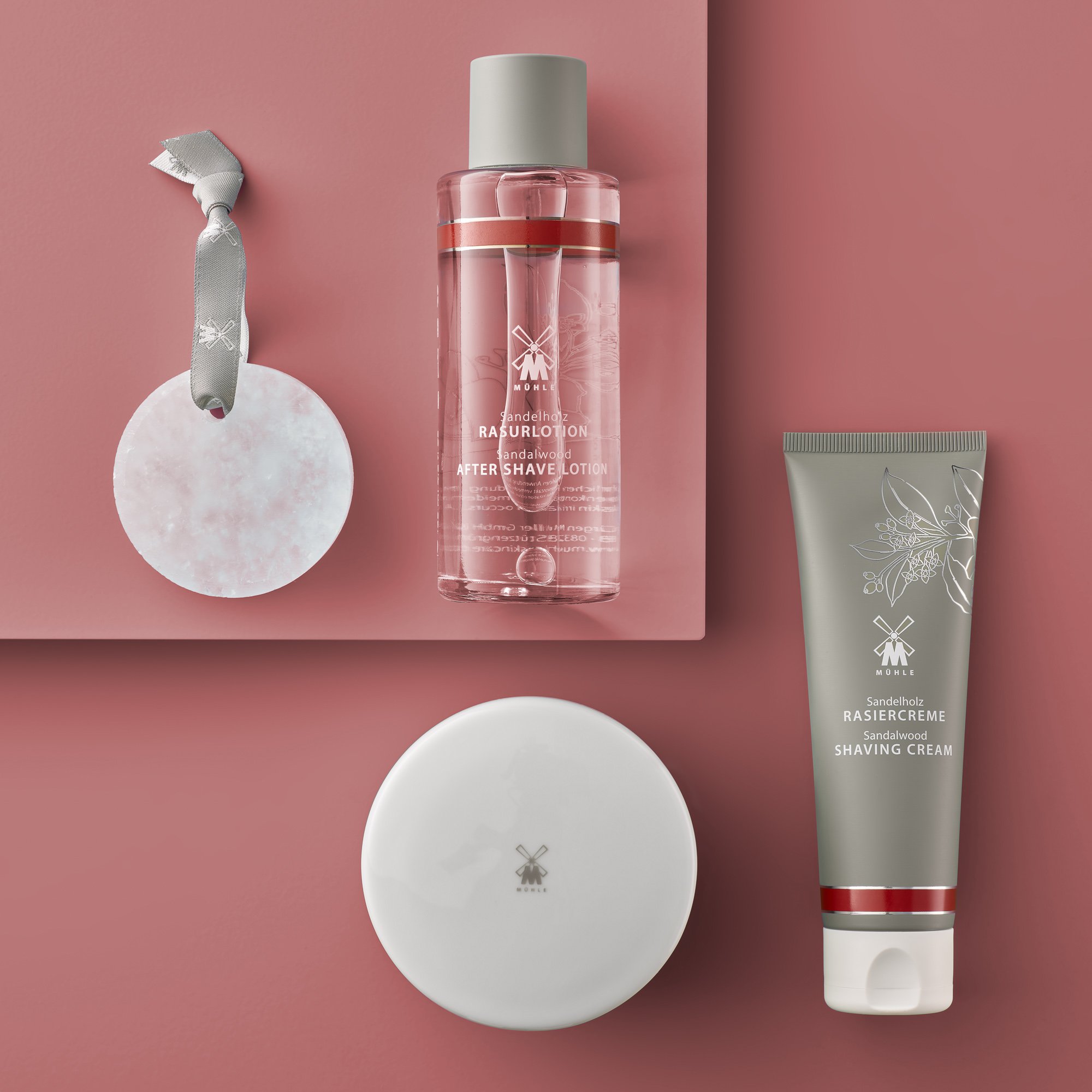 Innovative into the future: with its dark colouring, softness and quality, this synthetic fibre is the sustainable answer to the questions of our time. Black Fibre resembles natural badger hair, but is more robust and durable, and at the same time slightly softer at the tip than the natural material. The MÜHLE manufactory's very own innovation makes it possible to whip up a particularly creamy shaving lather. The amount of effort required for cleaning and drying is significantly lower.

High-grade resin is a high-quality synthetic material, the surface of which is processed and refined separately. The material is ideal for exclusive accessories and writing implements because it facilitates a broad spectrum of modern and classical designs in many attractive colours.

To begin with, the aesthetic basic shapes for brush and razor handles are turned out of solid rods. Then each individual work piece is polished in several passes to give the surface its special gleam. This processing method lends the models a pleasant feel and secures their beauty for many years to come.
Aloe Vera is considered to be an unbeatable moisturiser. The gel obtained from
the leaves of this traditional medicinal plant is ideal for sensitive minds and
skin prone to dryness. Finely attuned to other natural ingredients, this skincare
range convinces with a refreshing fragrance and a pleasant feeling. Fresh notes of citrus fruits combined with oak moss and woody aromas provide a soothing sensory experience.

| | |
| --- | --- |
| Brushhead: | Black Fibre |
| Category: | Skincare Set |
| Chrome: | Yes |
| Material: | High-grade resin |
| Replaceable brush head: | No |
| Scent: | Aloe Vera |
| Vegan: | Not vegan |
| Colour: | black |
Rasiercreme
Aqua (Water), Potassium Stearate, Potassium Palmitate, Aloe Barbadensis Leaf Juice, Potassium Cocoate, Glycerin, Sodium Stearate, Sodium Palmitate, Sodium Cocoate, Cera Alba (Beeswax), Potassium Myristate, Cetyl Palmitate, Sodium Myristate, Sodium Silicate, Sodium Thiosulfate, Parfum (Fragrance)