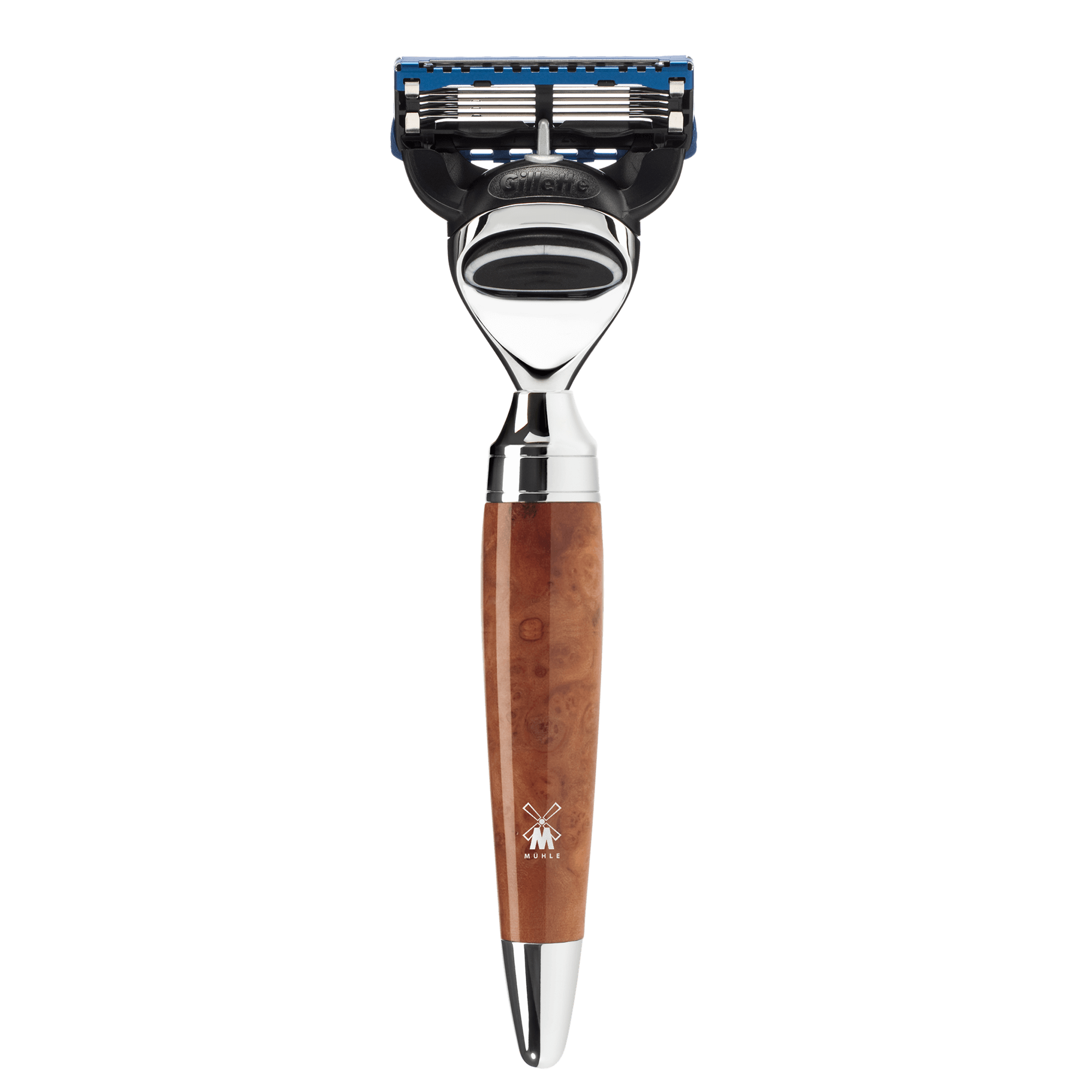 These contemporary and exquisitely smooth products from the STYLO line go to show that keeping things simple is often the best approach. With their conical shape, these products adapt to the ergonomics of their owners. STYLO uses chrome as an eye-catcher, combined with high-grade resin, which doesn't lose any of its shine even after many years. Elegant with reddish shimmering thuja, the root wood of the link cypress with its intense grain. New with a material that looks unpretentious only at first glance – the hammered beech forms an attractive contrast with its accentuated lines.
From golden brown to ruddy, with subtle or vivid veining in the grain: The burl of the sandarac tree, or Barbary thuja as it is also known, is regarded as one of the most valuable and most beautiful woods in the world. The strongly grained root burl only grows to a respectable size once the tree has died.

The tuber is therefore hide to find and to recover. The scantlings are picked by hand and turned. Only sections displaying an exceptionally beautiful grain are used. While being made into handles the wood is stabilised and coated with high-grade resin in a special procedure. This makes it water-resistant and hard-wearing. The high-gloss surface very expressively accentuates the individual veining of the grain.


Gentle, safe and reliable: the five superimposed blades of Gillette® Fusion™ enable a careful and thorough shave that is also gentle on the skin. A precision edging blade ensures precise contours, while comfort lubrication strips guarantee an even smoother result. Thanks to its simple and safe handling, this system is ideal for newcomers and is available from retailers everywhere. All MÜHLE shavers in this system are also compatible with SkinGuard, Gillette's latest product development.
As a Gillette® Trusted Partner, MÜHLE only uses Gillette® Genuine Parts.

| | |
| --- | --- |
| Colour: | brown |
| Vegan: | Vegan |
| Category: | Razor |
| Design Series: | STYLO |
| Material: | Thuja wood |
| Chrome: | Yes |
| Shaving system: | Gillette Fusion |