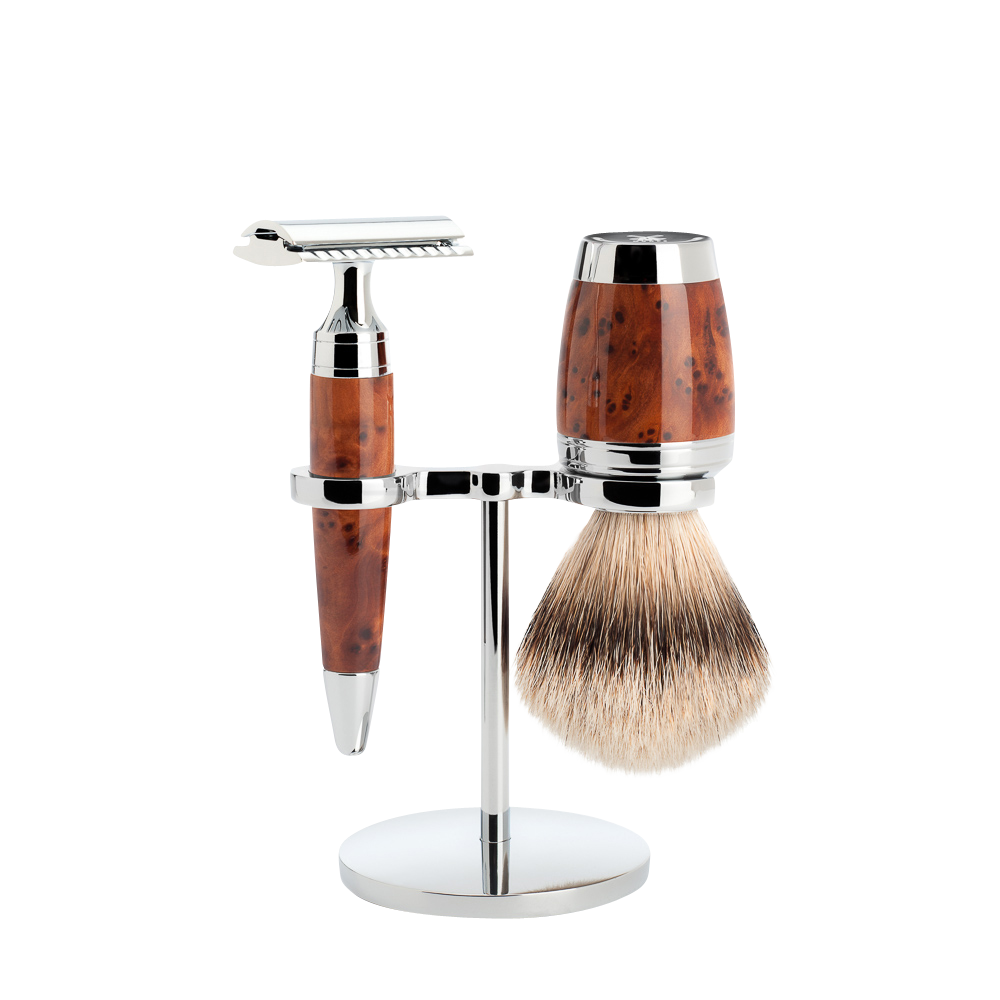 STYLO
Shaving set
Product number:
S 091 H 71 SR
These contemporary and exquisitely smooth products from the STYLO line go to show that keeping things simple is often the best approach. With their conical shape, these products adapt to the ergonomics of their owners. STYLO uses chrome as an eye-catcher, combined with high-grade resin, which doesn't lose any of its shine even after many years. Elegant with reddish shimmering thuja, the root wood of the link cypress with its intense grain. New with a material that looks unpretentious only at first glance – the hammered beech forms an attractive contrast with its accentuated lines.
A noble design and mechanical precision. The MÜHLE safety razor with closed comb promises a thorough yet gentle shave. Unlike the safety razor with an open comb, the foam edge has no teeth. In combination with a slightly steeper blade angle, this safety razor promises a particularly gentle shaving technique, which is also suitable for beginners with a little practice. The finest contours and clear lines at the base of the beard are just the icing on the cake.
From golden brown to ruddy, with subtle or vivid veining in the grain: The burl of the sandarac tree, or Barbary thuja as it is also known, is regarded as one of the most valuable and most beautiful woods in the world. The strongly grained root burl only grows to a respectable size once the tree has died.

The tuber is therefore hide to find and to recover. The scantlings are picked by hand and turned. Only sections displaying an exceptionally beautiful grain are used. While being made into handles the wood is stabilised and coated with high-grade resin in a special procedure. This makes it water-resistant and hard-wearing. The high-gloss surface very expressively accentuates the individual veining of the grain.


A tried and trusted classic and the undisputed leader of the natural hair range: silvertip badger is particularly soft and flexible and is exclusively handmade at MÜHLE. Its silver sheen and a black band around each individual hair, which connoisseurs call a mirror, are noble distinguishing features. Its fine, conically shaped hair absorbs a lot of water and guarantees a dense, creamy lather.
| | |
| --- | --- |
| Ring size: | M - 21 mm |
| Vegan: | Not vegan |
| Colour: | brown |
| Bowl included: | No |
| Shaving system: | Safety Razor, closed comb |
| Design Series: | STYLO |
| Material: | Thuja wood |
| Category: | Shaving Set |
| Brushhead: | Silvertip badger |
| Chrome: | Yes |
| Replaceable brush head: | Yes |