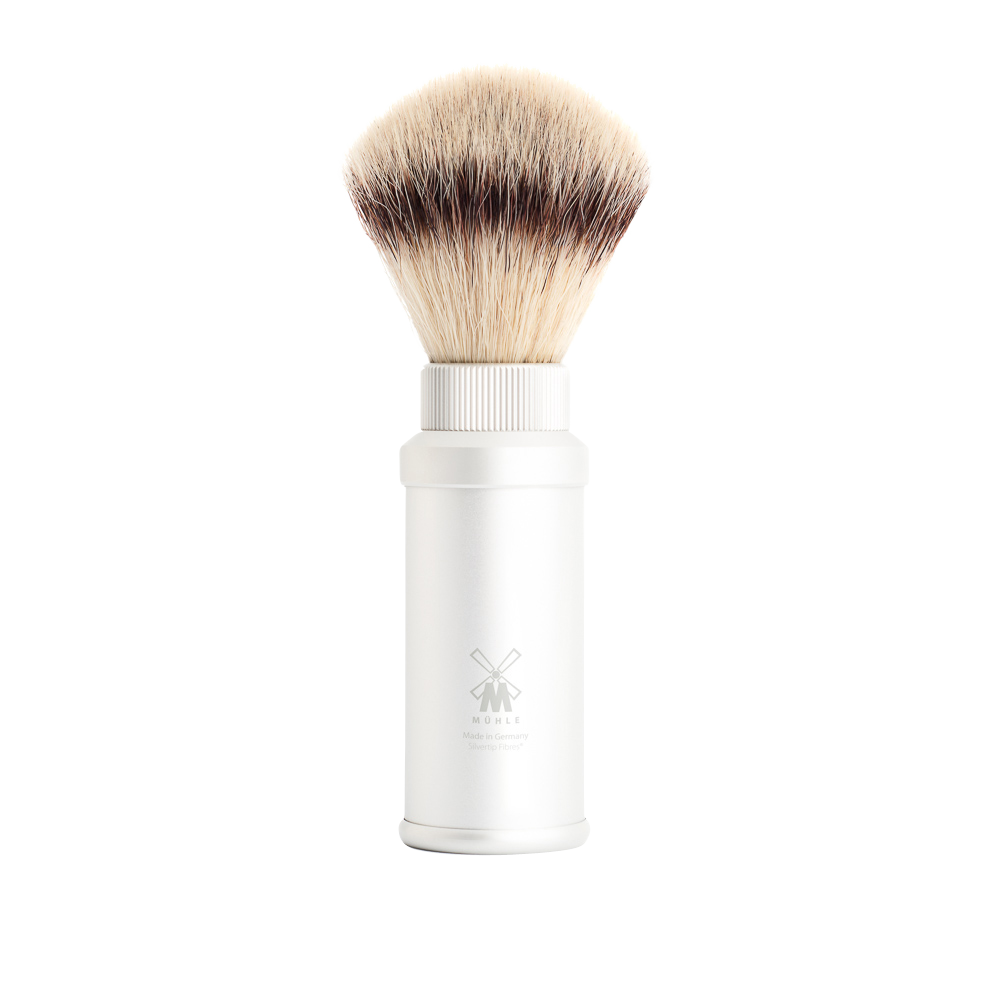 With the travel shaving brush from MÜHLE, you don't have to do without the most beautiful of all morning rituals, even when you're travelling. The handle made of silver anodised aluminium is wonderfully light, but feels good in the hand. The head can be conveniently twisted out and stored in the handle to save space. The Silvertip Fibre® hair quality is also a pleasure to take with you on the road, because the fibre dries quickly and is much more durable than natural hair. Functionality can be so beautiful!
Care ritual to go: with the travel companions from MÜHLE, you're perfectly equipped for every business trip, exciting city trip or relaxed family holiday. Whether a removable shaving brush or a compactly designed shaver, MÜHLE travel accessories are attractive, functional and light. Plus they're extremely durable, of course. Brush housings and razor handles are made of anodised aluminium in silver and black or chrome-plated metal. And the low-maintenance Silvertip Fibre® brush hair can handle anything and dries quickly. This means that your shaving set can be immediately put back into the hand-made cases made of leather tanned with a special vegetable method.
The handle made of anodised aluminium is wonderfully light, but feels good in the hand. The perfect contrast is ensured by the high-gloss, chrome-plated surfaces of the product.

This premium quality, durable synthetic fibre is a worldwide innovation and proof from us that art is capable of surpassing nature. The synthetically produced hair, which is also suitable for vegans, is very easy to look after and dries faster than any natural material. The fibres are made by hand and are particularly soft at the tip. At the same time, the lower part of the brush is firmer and provides sufficient backbone for a pleasant massage effect even when wet. In addition, Silvertip Fibre® guarantees a luxurious lather even when using the smallest amounts of shaving soap or cream.
| | |
| --- | --- |
| weight: | 40 g |
| width: | 30 mm |
| height: | 127 mm |
| Ring size: | M - 21 mm |
| Vegan: | Vegan |
| Category: | Shaving Brush |
| Material: | Anodised Aluminium |
| Brushhead: | Silvertip Fibre® |
| Colour: | silver |
| Design Series: | TRAVEL |
| Replaceable brush head: | Yes |