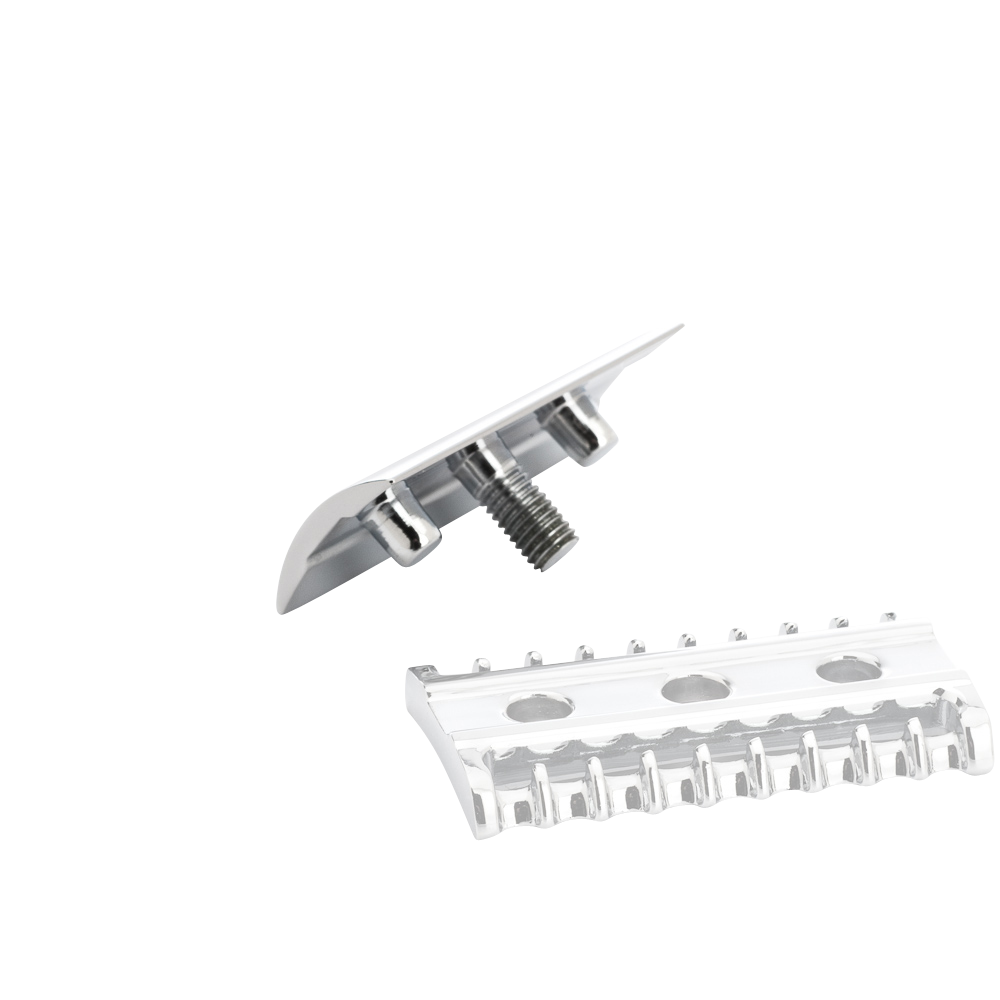 INDIVIDUAL
Top of safety razor head
Product number:
R 41 TOP INI
With the individually engraved plane head plate, your MÜHLE safety razor* is given a very personal touch. Simply enter the desired engraving in the configuration and place your order. Within a few days we will deliver your filigree laser engraved unique piece, which you can exchange for the existing razor head plate.
Top cap for safety razor, chrome-plated
Suitable for all MÜHLE safety razors with closed comb (*except ROCCA, COMPANION)
When choosing the top cap, make sure that it fits your shaving system (closed comb or open comb).
Without chrome the world would forfeit a lot of its lustre. In the finish used for our wet shaving accessories it demonstrates its best qualities: The material is corrosion-resistant, very long-lasting and has a luxurious, alluring lustre. When contrasted with this, the colours and shapes of other premium materials are shown to their very best advantage.

A noble design and mechanical precision. The MÜHLE safety razor with closed comb promises a thorough yet gentle shave. Unlike the safety razor with an open comb, the foam edge has no teeth. In combination with a slightly steeper blade angle, this safety razor promises a particularly gentle shaving technique, which is also suitable for beginners with a little practice. The finest contours and clear lines at the base of the beard are just the icing on the cake.
Only straight razors are even more traditional. The MÜHLE safety razor with open tooth comb clearly requires a watchful eye and a steady hand. The comparatively wide teeth and flat positioning of the blade promise an extremely direct and aggressive shave – this makes wiry and longer beard hair easier to reach and shave off. For advanced and professional shavers who know exactly what they're doing during their daily care ritual.
| | |
| --- | --- |
| weight: | 15 g |
| width: | 20 mm |
| height: | 12 mm |
| length: | 42 mm |
| Category: | Spare Part |
| Chrome: | Yes |
| Material: | Chrome-plated metal |
| Personalisation: | individual engraving |
| Shaving system: | Safety Razor, closed comb |
| Vegan: | Vegan |
| Colour: | chrome |
| Shaving system: | Safety razor, open comb |