SOPHIST
Shaving set
Product number:
S 33 H 47 SR
Cultivated, cosmopolitan and sophisticated in the best sense of the word: SOPHISTicated is MÜHLE's design classic. This classic, archetypal form is our personal tribute to the origins of shaving culture. Precious materials complete its elegant appearance, which, thanks to its design, is at once timeless and contemporary. Each handcrafted model bears the manufactory's engraved logo on the chromed base. SOPHIST also stands out with its extra-large brush head. The best shaving brushes Silvertip Fibre® and silvertip badger are the icing on the cake of this mature product with character.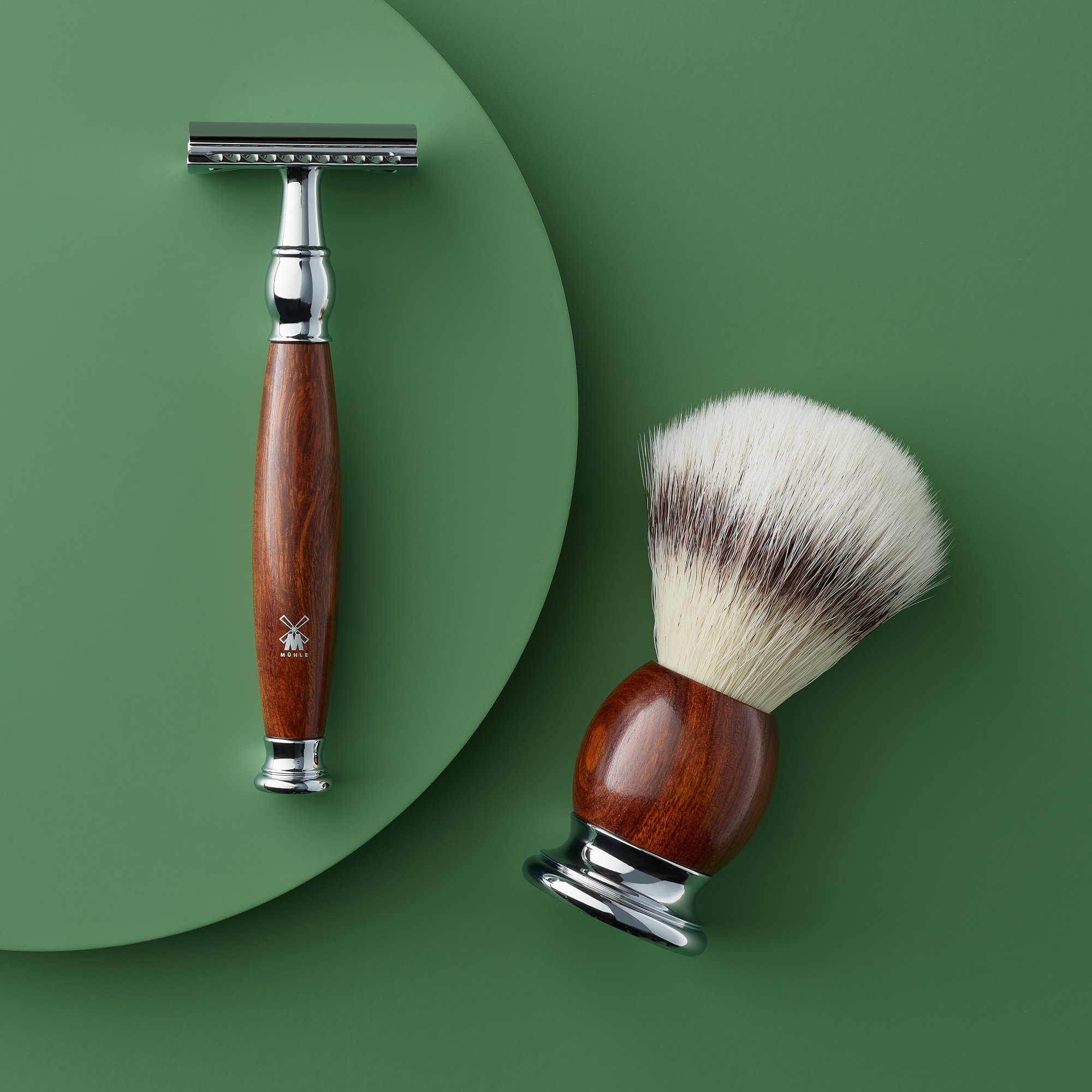 Its name speaks for itself: ironwood is one of the hardest woods in the world. Its extremely high density makes it incredibly resistant. Its dark brown colour in combination with the fine grain guarantees its silky and shiny appearance.
Please take into consideration that this is a natural product and that there may be colour variations and different grains. You can see a selection in the further pictures.

A noble design and mechanical precision. The MÜHLE safety razor with closed comb promises a thorough yet gentle shave. Unlike the safety razor with an open comb, the foam edge has no teeth. In combination with a slightly steeper blade angle, this safety razor promises a particularly gentle shaving technique, which is also suitable for beginners with a little practice. The finest contours and clear lines at the base of the beard are just the icing on the cake.
This premium quality, durable synthetic fibre is a worldwide innovation and proof from us that art is capable of surpassing nature. The synthetically produced hair, which is also suitable for vegans, is very easy to look after and dries faster than any natural material. The fibres are made by hand and are particularly soft at the tip. At the same time, the lower part of the brush is firmer and provides sufficient backbone for a pleasant massage effect even when wet. In addition, Silvertip Fibre® guarantees a luxurious lather even when using the smallest amounts of shaving soap or cream.
| | |
| --- | --- |
| weight: | 0.374 g |
| width: | 78 mm |
| length: | 182 mm |
| Ring size: | L - 23 mm |
| Vegan: | Vegan |
| Colour: | brown |
| Material: | Ironwood |
| Bowl included: | No |
| Shaving system: | Safety Razor, closed comb |
| Brushhead: | Silvertip Fibre® |
| Category: | Shaving Set |
| Chrome: | Yes |
| Replaceable brush head: | No |
| Design Series: | SOPHIST |